The Pfister Hotel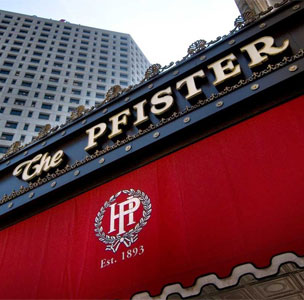 SyteLineCon 2016 will be held at the famous and stunning Pfister Hotel in downtown Milwaukee. Built in 1893, the Pfister Hotel has been a Milwaukee icon for over a century. As one of the Midwest's premier luxury hotels, it continues to celebrate a grand tradition of gracious service and impeccable style. As a guest of the Pfister, you will notice extraordinary architecture inside and out, punctuated by a welcoming ambiance from staff and fellow guests alike.
One of The Pfister Hotel's most enduring legacies and strongest bonds is with the art community. Home to the largest hotel collection of Victorian artwork in the world, The Pfister's walls house over 80 vibrant and expressive works of Victorian art spread throughout the hotel. You can download the Pfister Augmented Reality Tour (PAR) on your iPhone, iPad, or Android to interact with many of the paintings, sculptures, and other historical items throughout the hotel.
The Pfister is located just three blocks from the shores of Lake Michigan and is moments away from the Milwaukee Art Museum, Summerfest Grounds, as well as multiple museums, theater, shopping, nightlife, and dining destinations all within walking distance. The Pfister is at the center of it all.
For generations The Pfister has been known for holding prestigious galas and elegant weddings. Whatever the occasion, an event at The Pfister is one for the ages. The Pfister has a reputation for event perfection and coupled with the dedication and passion of The Lake Companies staff, we can promise SyteLineCon will be an unforgettable event.

Accommodations at The Pfister Hotel
We have negotiated discount rates with the Pfister Hotel, available from Sunday, October 2 through Wednesday, October 5, 2016. The block of rooms with a group rate will not last long, so get them while you can. You can either Book Your Room on their website using the group code 100316THEL, or contact the Pfister Hotel at (414) 935-5942 and reference The Lake Companies, Inc. Their staff will assist you with your room reservation.
While the discounted rate has been negotiated through Saturday, October 8th, rooms have not been reserved for those additional nights and are subject to hotel availability.